Precog: You'll look back and be proud
My journey at Precog began during my third year of college, in December 2020. It's been challenging, rewarding, humbling, and importantly, the most defining endeavour of my undergrad days. It's a research group I can't not mention when talking about my background; it's the group that doesn't just grow on your resume – it grows onto you! This blog is a likely inept attempt at the (mammoth) task of summarising the many experiences, learnings, and aspects of the group I value.
Growth, whether you like it or not
While there's no shortage of opportunities to grow in college, Precog has been the most multifaceted. It was while working at Precog that I learnt the process of conducting research. This is because PK allows you to own projects from ideation to conclusion: the usual hierarchy between grad and undergrad students is noticeably absent at Precog. With no one to obey orders from, the responsibility of managing an entire project, though initially daunting, gave me the comfort and confidence to work on research projects at multiple labs later on. It was while working on a project with five other undergrads, each with very little experience, that I got my first taste of scoping out a problem, designing experiments, performing analyses and arriving at conclusions, piecing together a narrative, and submitting a research paper – all crucial skills, and all learnt under fire.
Notably though, research skills aren't the only ones you pick up at Precog. You'll learn to organise and discuss your ideas, write impactfully, design slides, and give talks; you'll learn to manage and showcase yourself professionally, build connections, and hold meetings; you'll learn to screw up, apologise, and build again; you'll learn the nuances of communicating with professors and collaborators, and more by just engaging in your daily work at Precog, which would be a delightfully confusing concoction of all these, with a healthy dose of technical and analytical skills.
This is not to say that there's a lack of support. While PK himself is a massive source of help, strength, and advice, we'll defer that discussion to the following section. Another unique aspect of Precog is the collaboration culture, which, in my admittedly limited knowledge, is not seen in many other labs in India. Working on a project here, you might find yourself collaborating and building connections with reputed professors and research labs across the world – presenting to Prof. Emilio Ferrara and working with Prof. Joyojeet Pal were fanboy moments for the researcher in me, and the advice they offered was invaluable.
However, the role of Precog in my growth extends beyond the opportunities it offered – to the shift in mindset it catalysed. The group motivates and pushes each of its members to try harder, produce higher quality work, and aim for more ambitious platforms. Being surrounded by such talented and dedicated peers helped me develop a mindset of wanting the best for myself and harbouring the will to put in the required effort.
Bond with your advisor
The one takeaway from Precog I value the most is the bond I share with PK. I've had discussions, asked him for advice, grumbled, and joked with him about a diverse set of topics, research-related and otherwise. He's one of the first people I turn to for help when work (or life!) gets tough, and is not just a research advisor to me but a mentor 🙂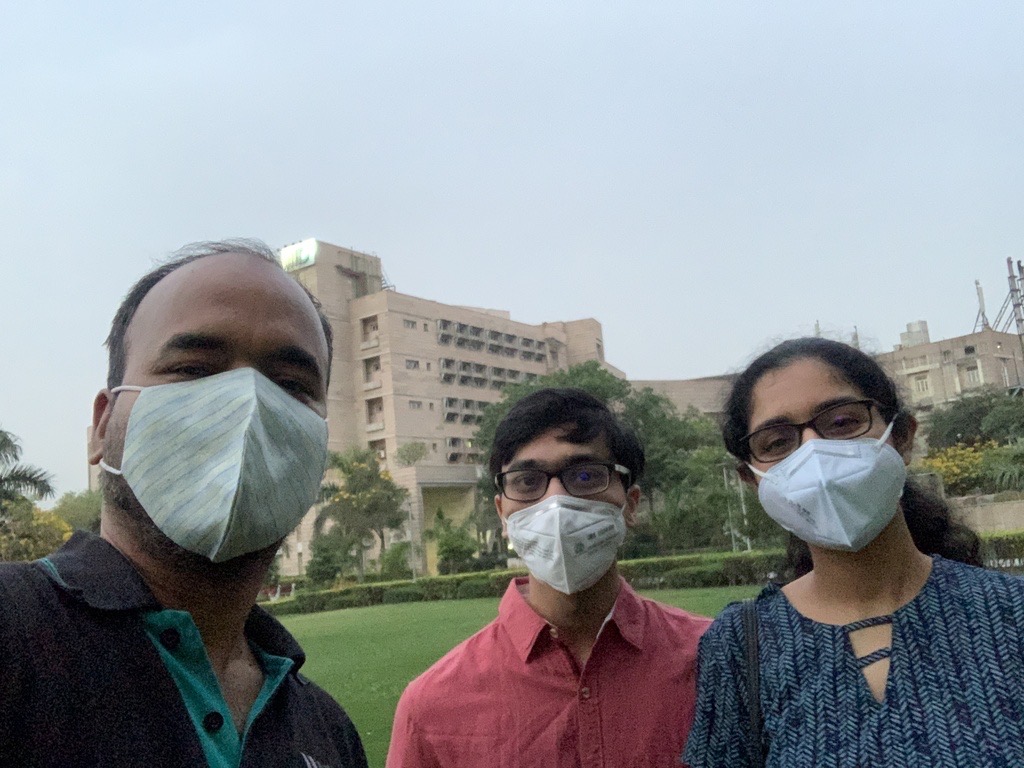 It is rare for an advisor to be this close to their students. PK does this by creating a safe space for his students to share their opinions and talk frankly about the good, the bad, and the ugly. He avoids the usual professor-student hierarchy and respects his students' opinions, even when contradictory to his own. At the same time, he is aware and mindful of people's personal space, time, and privacy. Secondly, PK is genuinely invested in the success and happiness of each of his students, within Precog and outside. As evidence, I submit to you one of the questions he commonly asks us during check-in syncs: "What can I do to make your life easier/happier?" He'll be your biggest cheerer, offering support through your endeavours, celebrating and flaunting your wins, and making you feel valued.
PK regularly shares his learnings and experiences (some thought-provoking, a few awe-inspiring, and others funny) with his students. His gyan sessions (bite-sized pieces of wisdom gathered from experiences, books, biographies, and pop culture) are an influence I'd want more of. My favourite ones are looking at brick walls as an opportunity to show how badly you want in (from Prof. Randy Pausch's last lecture) and that you can often not optimise for everything and you must pick and choose.
This energy and culture of shared growth trickle through to the entire lab. Precog is a well-connected community where everyone is aware of and contributes to each other's work. Weekly update meetings and an active Slack workspace keep everyone apprised and offer plenty of opportunities to ask for help. On the other hand, birthday celebrations, outings, and dinners keep people close and spirits high. Even though I joined during the lockdown, the lab always felt welcoming and bustling with activity. When things shifted back on campus in 2022, we went bowling and bonded and (over-)shared over a buffet. PK even invited us to his house for a home-cooked dinner, where we discussed future plans and reminisced about college memories. This tightly-knit community inspires a strong culture of giving back, and several Precog alums collaborate with and contribute to Precog long after graduation.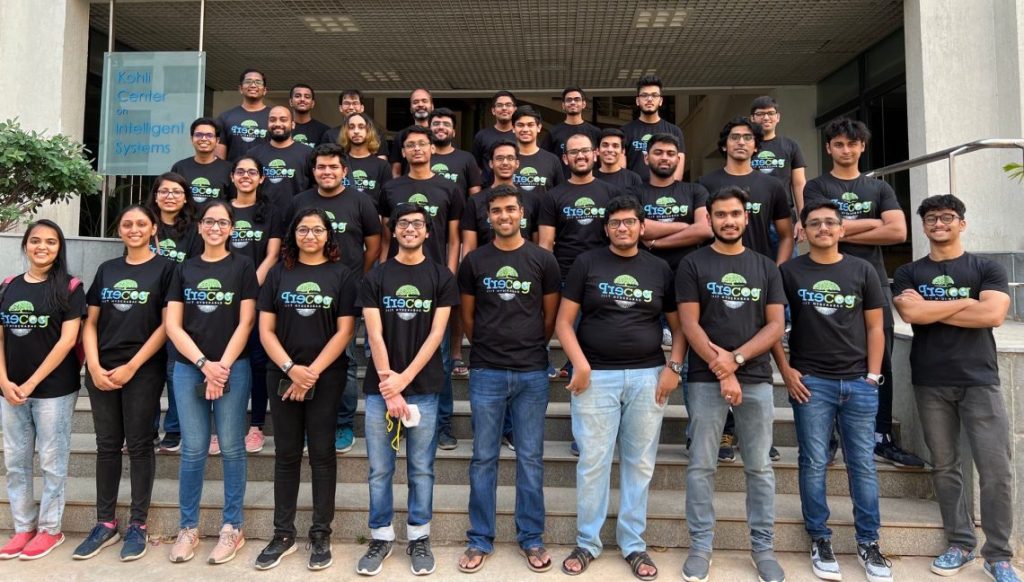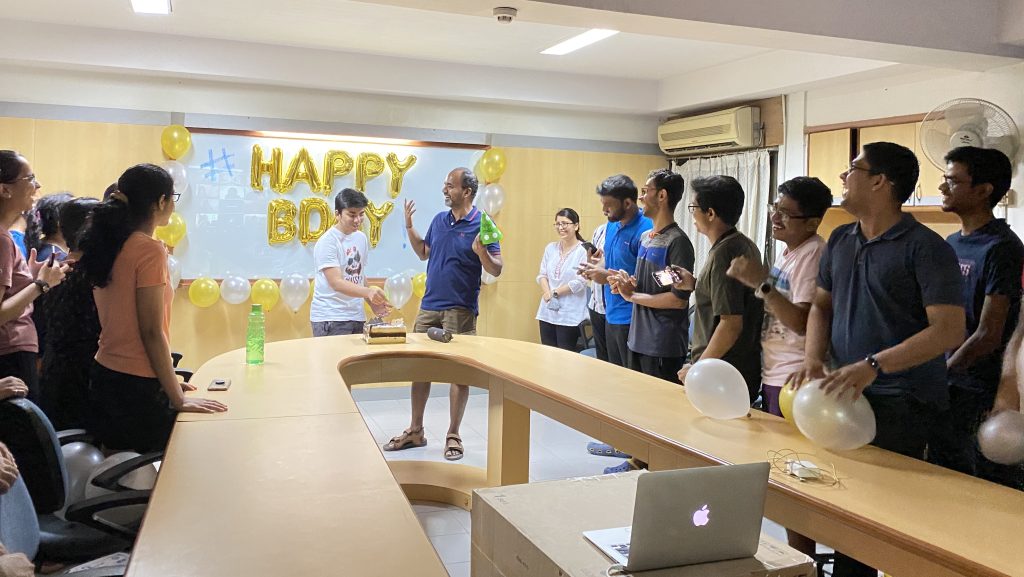 Impactful research
I enjoyed my time at Precog because I enjoyed my work there. I found it directly relevant to current societal events and conditions, which made it impactful and rewarding. The work at Precog spans several domains, from natural language processing to data science to cyber security to the social sciences; this leaves something for everyone to explore and embrace. The group also gives you complete freedom to join existing research threads or start new ones. I worked on the use of social media networks for political purposes, a thread which sprang from an innocuous Slack message about a lesser-known social media platform!
A note to the reader
If you're looking for a research group, do consider applying. I can vouch that this would likely be the most mind-boggling, transformative, horizon-broadening, and pivotal experience of your university journey, and that you'll meet some talented people and make good friends along the way. Don't get me wrong: it won't be a cakewalk. It would sometimes be annoying, confusing, and overwhelming and require dedication and hard work. However, it would be rewarding. Several of my most cherished accomplishments wouldn't have been possible without PK and Precog.
If you're at Precog, please do your best to make the most of your time here, and keep the group, its culture, and its legacy thriving. I wish you an experience you can look back at and be proud of.